The original pinball wizards...
Although renowned the world over for their stunning jukebox restorations, our highly experienced team of technicians
have also earned an equally formidable reputation for sourcing and restoring vintage pinball machines.
It's our proud boast that we can find almost any pinball table a client requests no matter what the model or era, and if the machine comes to us in a sorry state then our pinball wizards will work their magic, exhaustively stripping the machine down to component level and rebuilding it from the ground up if necessary.
Put simply, our restoration work is second to none. These are incredibly complex machines with a dizzying array of switches, toys and moving parts, not to mention the mind boggling tangle of wires and relays under the bonnet. Every last component has to be checked and replaced if necessary, and that's before we start work on the cosmetic side of things, repairing damaged areas on the playfield and respraying time worn cabinets, some of which require the preparation of custom stencils.
A typical restoration can take the team up to 6 weeks and it's only when we reach the end of the process that we can confidently put our name to the finished piece, issuing the one year parts and labour warranty that gives our customers the reassurance they deserve.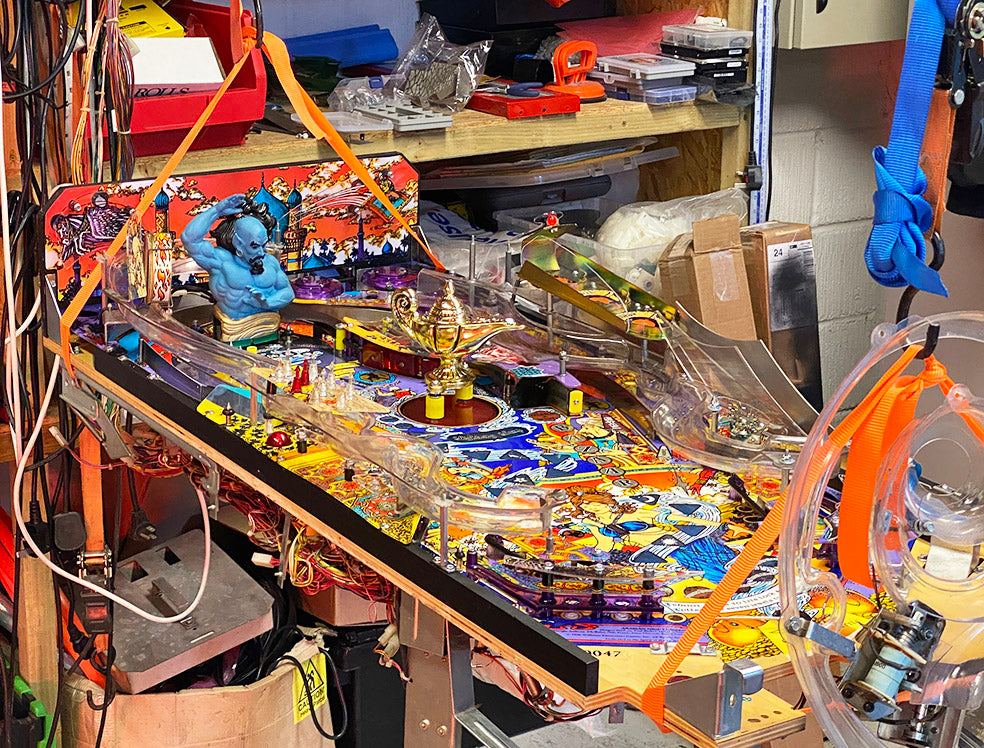 There has always been a strong demand for customisation on pinball tables, usually involving after market upgrades such as special playfield toys, super bright LED lighting, reflective side blades and uprated speakers. Our engineers will happily incorporate any such modifications when requested but in recent years we've gone much further than this, actually creating one-off themed tables for particular
clients.
In the past this has resulted in tables themed around Premier League clubs, a piece based on a client's rare Ferrari and most recently, a machine featuring the band Queen for a young fan in the US.  His father secretly commissioned it as a
gift, adding that the discovery of Queen's music had greatly assisted his son in his recovery from depression. As a special
bonus we even approached drummer Roger Taylor, who was kind enough to contribute a hand written message of encouragement for the lad which we sent
with the table.
With the disappearance of pinball tables from bars, clubs and arcades you could be forgiven for thinking that such amusements had been consigned to museums, and indeed many of the younger people who visit our showroom have never even seen one before, much less heard of the legendary rock opera 'Tommy' and its eponymous deaf, dumb and blind hero.
Although mostly limited to the home market these days, the demand for pinballs is still huge. New releases from famed pinball manufacturer Stern typically sell out within weeks and highly sought after titles like The Addams Family (1992) and The Twilight Zone (1993) are still appreciating at an astonishing rate.
When California's 44,00 sq ft Museum Of Pinball closed its doors last year and sold their entire collection, totalling some 800 machines, it was widely feared that the resulting auction might depress values for a while but instead the opposite
happened, with the major sale actually supercharging demand.
New titles are typically themed around major movie franchises like Spiderman, Star Trek or Godzilla, and the sophisticated gizmos on today's machines ensure an absolute riot of noise and action, about as far removed from the relatively simple tables of the '50s and '60s
as it's possible to imagine.
Whether you're seeking a recent title or a vintage classic The Games Room Company should be your first port of call. With our extensive network of contacts, accrued over decades, we are the natural choice for anyone seeking a specific table and in short, if we can't locate a particular machine then it's almost certainly not on the market.
Speak to our team today for more information, we can supply vintage classics by Bally, Williams, Sega, Data East, Gottlieb, Stern, American
Pinball, Jersey Jack and more…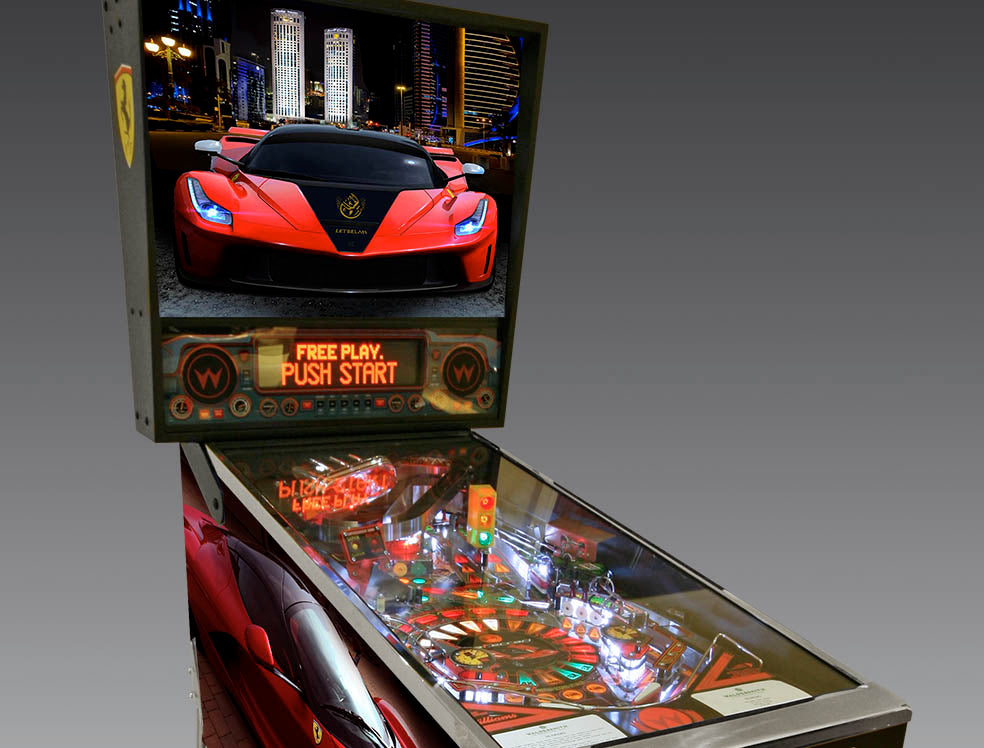 The Games Room Company Pinball Specialists